Didja hear the one about the time I bit the dust trying to ride my bike to work last week? I don't think I have to look much beyond that to make a list of things that raise my blood pressure! I almost put "bike accident" for numbers one through ten on this week's Tuesday Ten list, but that felt like cheating...And we all know I'd never cheat here!
10 Things that Raise my Blood Pressure
Cleaning my leg with alcohol wipes after said accident!
Pulling into a parking space just as someone next to you is pulling out. You are in park, but you think you are still moving: PANIC!
Not being able to find my keys/phone/purse/shoes
Someone who calls and says, "Can we talk?"
Hearing a crash from the room your kids are playing in.
Hearing absolute silence from the room your kids are playing in
Accidentally deleting everything you just wrote in a blog post!!
Having the check engine light come on while you're on a road trip...with the kids...at night
How about you? What gets your blood boiling?!
Tweet
Tuesday Ten is a fun linkup created by Lisa @ The Golden Spoons and Rabia @ TheLiebers. Each Tuesday we make a list of ten things and link them up to share. At the end of each post we post the topic for the next week. Anyone can join in!
If you would like to be added to the mailing list without linking up, click here. We hope to see you on Tuesday!
RULES:
1) Link up a post, old or new, pertaining to the TuesdayTen topic for this week and add our TuesdayTen button to your post or sidebar.
2) Please do not link up contests, product reviews, or sponsored posts. Links not pertaining to the topic will be removed at the hosts' discretion.
3) Visit your hosts and follow them on social media.
4) Visit as many other linked posts as you can and show those bloggers some love by commenting and/or sharing.
5) By linking up you agree to be subscribed to out #TuesdayTen mailing list. Emails are only sent once a week and you can unsubscribe at any time. If you would like to be added to the mailing list without linking up, click here.


Don't forget to add the new #TuesdayTen badge to your post or homepage!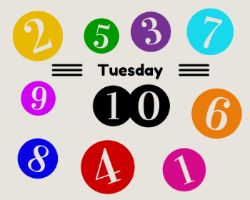 Click to sign up for #TuesdayTen reminder emails: http://eepurl.com/PXVtr