Every year I look forward to the time change when we can "fall back" and gain an hour of sleep. Then it comes and I remember how much I hate it! My body still wakes up at the same time, and try as I might, I can't seem to stay awake until the "new" 10PM, so I go to bed too early. I'm hungry at the wrong times, and I have to drive home in the dark.
Regardless of reality, though, it is nice to fantasize about having extra time. And just to be generous, Lisa and I are giving you two extra hours PER DAY. All you have to do is think of ten things you'd do with that additional time.
Personally, I'd split the time in half and use an hour in the morning and one in the evening. The morning hour would come after wakeup time and before leaving the house. It would make for a more relaxing time to get ready for school and work. If I had an extra hour every morning, I'd:
Coax the kids out of bed a little more gently.

Do morning exercise with the whole family to instill good habits.

Make a nice breakfast so we could all sit down to together at the table.

Do a morning devotional together before leaving the house.

Empty and refill the dishwasher so it can run while we're not home.
My evening hour would come between getting home and going to bed. I'd use that extra hour to:
Get dinner together in a calm fashion.

Have some time playing or talking with the kids about their day.

Get chores done together.

Have a few moments to myself to read or blog.

Be awake enough to watch TV or just talk with Ken before bed.
I'm going to go ahead and assume that those two extra hours don't make me any more tired in the evenings. That would defeat the purpose, in my opinion. What would you do with two extra hours per day? Tell me in the comments or link up your own post below:

We hope you have enjoyed our #TuesdayTen lists! If so, please link up one of your own and share your post using #TuesdayTen!
RULES:
1) Link up a post, old or new, pertaining to the TuesdayTen topic for this week and add our TuesdayTen button to your post or sidebar.
2) Please do not link up contests, product reviews, or sponsored posts. Links not pertaining to the topic will be removed at the hosts' discretion.
3) Visit your hosts and follow them on social media.
4) Visit as many other linked posts as you can and show those bloggers some love by commenting and/or sharing.
5) By linking up you agree to be subscribed to out #TuesdayTen mailing list. Emails are only sent once a week and you can unsubscribe at any time. If you would like to be added to the mailing list without linking up, click here.

Come link up again next Tuesday, Nov.11: Ten Things you Love About Fall

Don't forget to add the new #TuesdayTen badge to your post or homepage!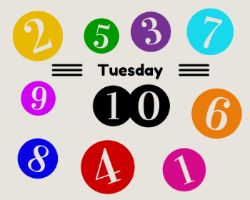 Click to sign up for #TuesdayTen reminder emails: http://eepurl.com/PXVtr