Hey #TuesdayTen friends! Did you know that Lisa and I have been hosting this little linky for almost a year?? Well, we'd like to throw a birthday bash and we're giving our friends the first chance to jump in on the hosting duties! If you'd be interested in helping with this giveaway, please read the details and fill out the form here. And now on to our regularly scheduled list!
Usually Lisa lets me talk about what I love or hate about a season, but apparently this time around I have to be nice to Fall. It will be a stretch, but I think I can do it!
Leaves

Corduroys and sweaters

Boots and scarves

Snuggling on the couch under a blanket

Fires in the fireplace

Hot chocolate, hot cider, hot tea

Chili, soups, and stews

Fall holidays: Halloween and Thanksgiving

Fuzzy socks

Bad weather=an excuse to stay inside and read books
What about you? Do you love Fall or hate it? Are you still my friend since I didn't mention Pumpkin Spice Lattes? More for you, right?
Tell me how you really feel about fall in the comments, or link up your own post below:
We hope you have enjoyed our #TuesdayTen lists! If so, please link up one of your own and share your post using #TuesdayTen!
RULES:
1) Link up a post, old or new, pertaining to the TuesdayTen topic for this week and add our TuesdayTen button to your post or sidebar.
2) Please do not link up contests, product reviews, or sponsored posts. Links not pertaining to the topic will be removed at the hosts' discretion.
3) Visit your hosts and follow them on social media.
4) Visit as many other linked posts as you can and show those bloggers some love by commenting and/or sharing.
5) By linking up you agree to be subscribed to out #TuesdayTen mailing list. Emails are only sent once a week and you can unsubscribe at any time. If you would like to be added to the mailing list without linking up, click here.

Come link up again next Tuesday, Nov.18: 10 Things on Your Lifetime Bucket List

Don't forget to add the new #TuesdayTen badge to your post or homepage!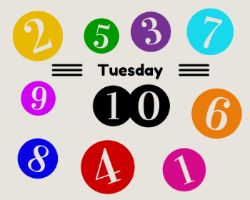 Click to sign up for #TuesdayTen reminder emails: http://eepurl.com/PXVtr