The internet seems ablaze with inspirational quotes. You see them all over Facebook and Pinterest. I've shared some; I've created some, and today for #TuesdayTen I'm making a list of my favorite ones.
Priginally, I thought I'd just go to my Pinterest board of "Words to Live By" and copy straight from there, but it seems I haven't been as busy pinning there as I thought I had! After this linkup, I hope to have many more added and I hope you will share your favorite quotes with the rest of us.
These are my favorite quotes of all. The ones that get me through the tough days. The ones I say to my kids or friends on a regular basis:
Friendship is born at that moment when one person says to another, "What? You too? I thought I was the only one." --C.S.Lewis
"This is the day the Lord has made! Let us rejoice and be glad in it!" --Psalm 118:24
"You must be the change you wish to see in the world." --Gandhi
"Everything will be all right in the end. If it's not all right, it is not yet the end" --Patel, Hotel Manager, The Best Exotic Marigold Hotel
"A child's life is like a piece of paper on which every person leaves a mark." --Chinese Proverb
And with that reminder, I shall end! What's your favorite quote? What saying gets you through the day? Link up below or tell me in the comments!
#TuesdayTen is hosted by:
We hope you have enjoyed our #TuesdayTen lists! If so, please link up one of your own and share your post using #TuesdayTen!
RULES:
1) Link up a post, old or new, pertaining to the TuesdayTen topic for this week and add our TuesdayTen button to your post or sidebar.
2) Please do not link up contests, product reviews, or sponsored posts. Links not pertaining to the topic will be removed at the hosts' discretion.
3) Visit your hosts and follow them on social media.
4) Visit as many other linked posts as you can and show those bloggers some love by commenting and/or sharing.
5) By linking up you agree to be subscribed to out #TuesdayTen mailing list. Emails are only sent once a week and you can unsubscribe at any time. If you would like to be added to the mailing list without linking up, click here.

Come link up again next Tuesday, October 14: 10 Pet Peeves

Don't forget to add the new #TuesdayTen badge to your post or homepage!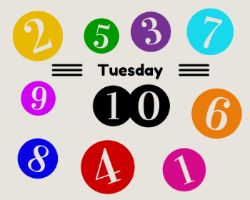 Click to sign up for #TuesdayTen reminder emails: http://eepurl.com/PXVtr