I can't decide is this is an easy topic or a difficult one. The idea is to offer up ten nuggets of advice to give to anyone I choose. Well, maybe I'll just be difficult and let you choose who the advice is for!!
Facing a difficult dilemma? Take a look at this list and determine the advice that seems to fit.
Worried about a life situation? Pick out the words of wisdom that make you feel better.
Trying to choose between two troublesome choices? The answer is here! You just have to decide which answer it is!
Yes. The only real problem is whether you brave enough to actually go for it. And the answer to that one is also yes. You've got this! Go for it!

Blue. Buy the blue one. It matches everything else so much better than the other choice. Definitely go for the blue!

I think you know the answer to this one. It isn't your fault and it isn't her fault. It's just the way the chips fall sometimes. Move on.

It's under the couch cushion. Wa-a-a-a-a-a-a-ay under the couch cushion. Yes, you're going to get crumbs under your fingernails, but if you want it back, that's the price you'll have to pay.

Give it time. I know it seems huge right now, but I promise when you look back on this in a month, you'll laugh at what a big deal you thought it was!

No. It's not normal. Not at all. And you really should have to put up with it. You are better than that. Get out now and don't look back!

I'm going to say this as gently as I can, but you are the one perpetuating the problem and I think you know that. You know what you need to do, now put on your big girl panties and DO IT!

Yes, he likes you. And you like him. And this isn't the 1950s so go ahead and ask him. He'll say yes!

It's yours if you want it. You just have to work up the nerve to go after it. Does knowing that it's already yours help?

Sure, I could tell you; but that would ruin the surprise. You don't really want that do you??
**BONUS** Approximately 25 miles per hour.
So there are all the answers you could ever need. Did I answer your question?! LOL! Share your question in the comments, or link up your own advice below.
We hope you have enjoyed our #TuesdayTen lists! If so, please link up one of your own and share your post using #TuesdayTen!
RULES:
1) Link up a post, old or new, pertaining to the TuesdayTen topic for this week and add our TuesdayTen button to your post or sidebar.
2) Please do not link up contests, product reviews, or sponsored posts. Links not pertaining to the topic will be removed at the hosts' discretion.
3) Visit your hosts and follow them on social media.
4) Visit as many other linked posts as you can and show those bloggers some love by commenting and/or sharing.
5) By linking up you agree to be subscribed to out #TuesdayTen mailing list. Emails are only sent once a week and you can unsubscribe at any time. If you would like to be added to the mailing list without linking up, click here.

Come link up again next Tuesday, October 28: Favorite Cartoons, Past or Present in honor of National Animation Day

Don't forget to add the new #TuesdayTen badge to your post or homepage!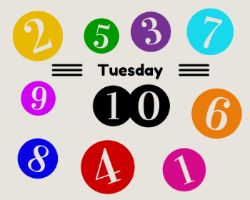 Click to sign up for #TuesdayTen reminder emails: http://eepurl.com/PXVtr