1. One time, I
saw a man dressed in a chipmunk costume getting on to an elevator. Ken says it was the champagne talking, but I disagree!
2.
Listening to my kids talk in bed
is something that makes me smile.
3. Seven words I love:
Dinner's ready; laundry's done; house is clean. (Not that those words ever get spoken at my house!)
4.
I love to look at
snow;
I hate to drive in it
.
5. I looked out the window today and saw
that the sun was already up
.
6.
I am at a loss for words on this one
, and that's saying something!
7. And as for the weekend, tonight I'm looking forward to
leftovers and movie night
, tomorrow my plans include
seeing Treasa and Stacey
and Sunday, I want to
get some housework done while Henry's on his playdate
!
You can play along here: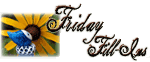 Make sure to leave a comment, so I can visit you too!